A project very near and dear to us is our beloved #MGDxNapa project! We wish we could transport back here every season to hang with the sweetest family around who gets to call this little slice of heaven home sweet home. This abode, from every angle, has been a fan-favorite from the moment it came to life. And while we may be a bit partial, the tried & true classic palette and finishes, shiplap lined walls, and ever-iconic updated California Ranch exterior are just a few of the highlights that give this Napa home its timeless charm.
Front Porch
---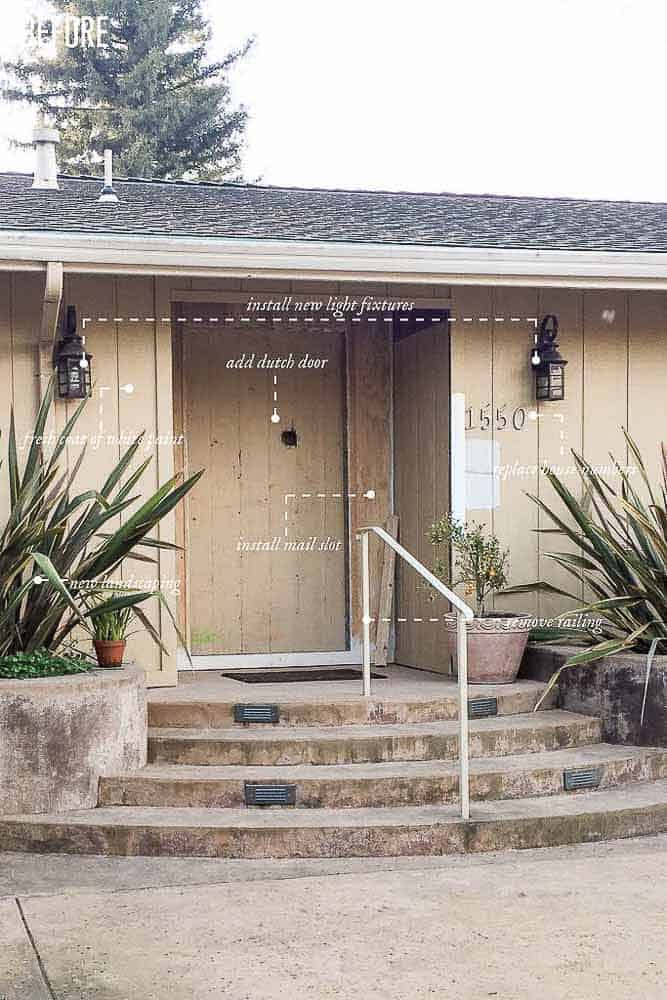 One of the beauties of being able to work remotely with Clients such as these gems is that we shared the same vision for the new look & feel of the home before we were officially brought onboard to help re-imagine their newly purchased property in a classic neighborhood within Napa proper, in Northern California.
To start with the exterior updates, we gave the house a cosmetic makeover to help bring it a bit more current — taking the original lackluster yellow and red facade to a crisp white with grey accents. The custom farmhouse-style dutch door and integrated bronze mail slot were a few of the new details we knew would add just the right amount of charm. We also juxtaposed the bright white exterior with aged zinc lighting fixtures and new house numbers. Pretty white roses, westringia, kumquat trees, little ollies, lavender, and layers of greenery surround the property as the perfect accent to this idyllic and charming farmhouse.
Backyard
---
The fresh coat of exterior paint, accented with the property's existing lush green foliage that drapes seasonally over the pergola, creates the perfect setting for an ideal alfresco dining area. Our Client's dad even hung their new rattan pendants, which is yet another reason we love every corner of this project — it's a true family home!
Dining Room
---
As you can see, this space involved quite the transformation and overhaul! Our Client knew from the moment they purchased the home that this would be the game plan for the remodel…opening up all walls that contained smaller, less usable rooms in an effort to create a larger, open floor plan.
For the new dining room layout, the existing wall and ceiling between the kitchen and living room were demo'ed, ceilings were vaulted, and voilà — it now looks like an entirely different home. In our eyes, that's the beauty of a well-thought-out remodel and floor plan update. Most older homes have such amazing potential, and with the right team in place, you can make older, dated room layouts into much more family-friendly footprints with big open spaces and high ceilings.
The dining room sits in the middle of the new hub of the home — the Entry, Dining Room, Kitchen and Living Room all together. Proudly on display is a one-of-kind heirloom turned artwork piece: a hand-shaped surfboard gifted to our Client by her dad, who made this for her years prior and almost didn't make its way into the home due to its size! The moment we saw it, however, we just knew it needed to take centerstage, and it's the perfect statement piece for this Southern-California born and raised family.
Along with their beloved surfboard, our Client also loves collecting and frequenting the local Alameda Flea Market, which is where they scored all of the vintage hats + baskets here. These were originally slotted to hang in the Laundry Room, but we made a game time decision to put these beauties front & center and we're so glad we did!
Also adjacent to the Dining Room, is a sweet little kids' corner where they wanted to make sure their little ones could enjoy and play and make-believe in. We paired it with a huge, oversized beach print to bring in a touch of their So-Cal roots.
Living Room
---
Kitchen
---
Our Napa Kitchen is filled with all the classics, matte black details and crisp white finishes. We went with cararra marble countertops and a leathered limestone island slab. The vintage runner is a find our Client scored from a vintage vendor, and adds the perfect pop of color to this understated palette.
The sweet cow painting is by our incredibly talented Client, along with a few of the other paintings styled throughout the kitchen and home.
Hammered brass pendants shine bright over the kitchen island, paired alongside iconic bistro-inspired counter stools, adding bits of modern classic touches throughout this charming farmhouse kitchen.