Ready for part two of our #MGDxInnerSunset project reveal? Us too! Today we're headed into the bedrooms and bathroom spaces inside this multi-level San Francisco family home. If you missed part one where we shared the entryway, living room, kitchen, and dining room – Head there to catch up! Otherwise, keep scrolling, and get your "pin" button ready!
Our clients have two young girls and extended family that's often in town, so it was important to them that everyone had a space they could call their own. The main bedroom and girls bedroom are off the upper hall which you'll see below, and the guest suite is downstairs off the bonus room that we'll share more of in part three of our reveal. Now, let's dive in!
Upper Hall
The magic of this hallway space is all in the details. The design elements are simple, but everything comes together to create a truly beautiful and peaceful space. All of the doors and door hardware is original to the home from the early 1900s, and we love the character and charm they add to the space. You've probably also noticed the original hardwood floors that we refinished and stained a dark grey-brown hue. It's one of our favorite elements in the home! Last but not least, that amazing vintage runner rug is an ode to their little girls. They love pink, and this piece got them really excited!
Main Bedroom
For the main bedroom design, we wanted to create a dark and moody vibe for them in the space. Because the room gets flooded with natural light, we opted for a mix of blacks, charcoals, and natural wood tones to create the feel we wanted. The back wall has a patterned grasscloth wallpaper that just adds a fun pop of texture to the space.
Main Bathroom
Oh, we could write a whole blog post about this bathroom (and we probably will)! It has the most amazing views of the city from the windows, but can easily be made private by pulling down the woven Roman shades. We used calacatta marble wall tiles to surround the entire space, and added hand painted terracotta floors for a fun element of pattern. A custom white oak vanity completes the space! Our clients' biggest request was just a fun, young, and sophisticated design for their bathroom, and we think it turned out perfectly!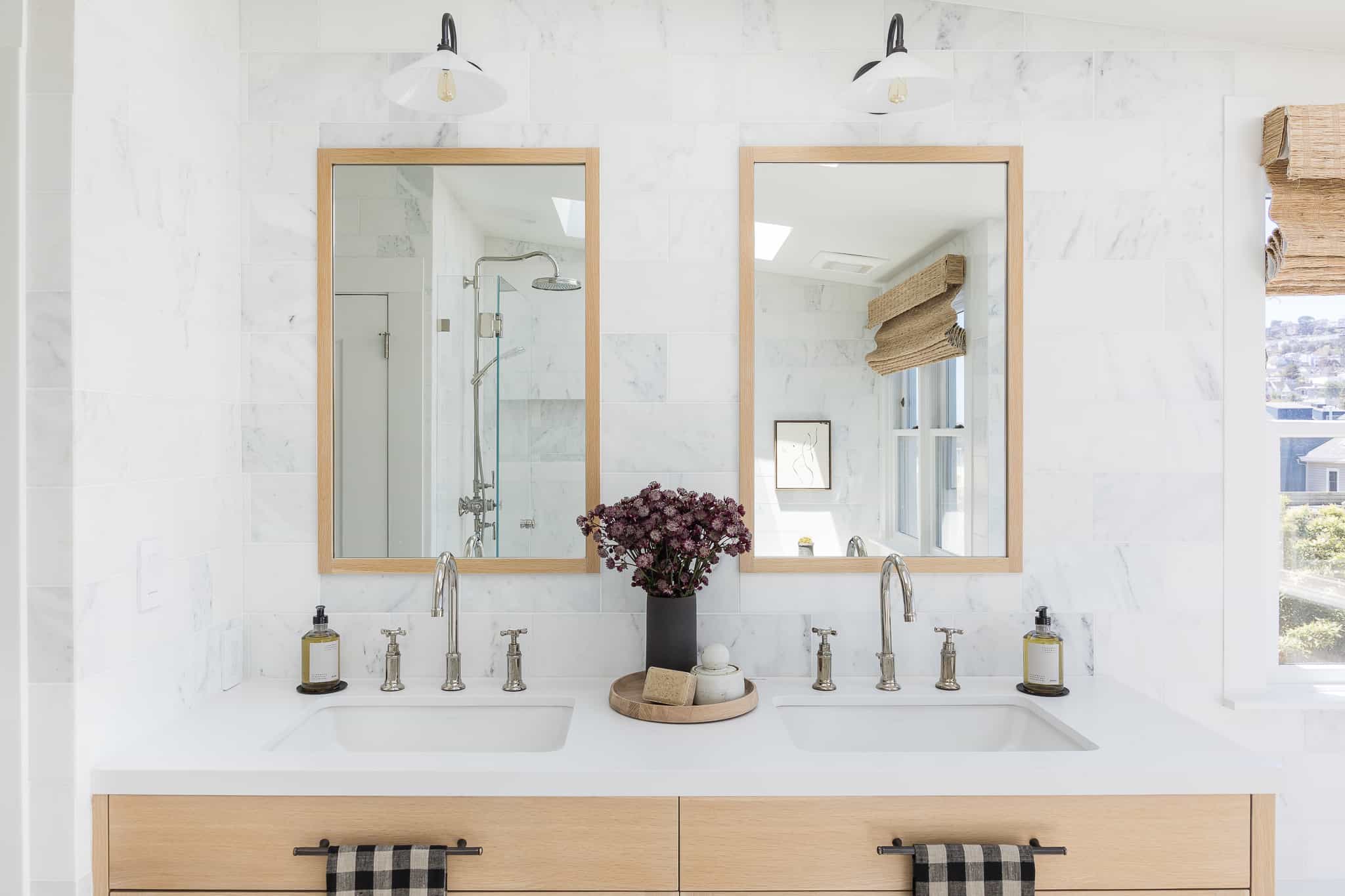 Office
Off of the main bedroom is our client's mini office space. During COVID, we needed to create a transitional office space for her to use while working from home. We found the perfect little corner tucked between their bedroom and closet and added this simple wood desk, comfortable upholstered chair, and an art print for inspiration.
Girl's Bedroom
Now, onto the cutest girls bedroom! The biggest challenge in designing this space was that our clients' daughter's preferences were changing every three months throughout the design process. If you have kids, you know exactly what we mean! 😉 As the older sister, we wanted to design a room for her that would work well into her teenage years, but still get her excited now.
We picked out the most amazing bed frame profile, and then had her pick out the color. Then, we based the rest of the room's design around that pretty teal hue. She's also a big reader, so we had to create a little reading nook for her, too!
Girls' Bath
We gave the girls' bathroom a cute little facelift, and it's truly a dream space for any little girl! A soft pink vanity, floral patterned wallpaper, and feminine hardware and plumbing fixtures create the prettiest space for them to grow into.
Guest Suite
Lastly, let's head into the guest suite! This space is right off the downstairs family room, and was designed with the sole intention of their parents having a place to stay when they come to visit. The room used to be really dark because it's on the lower floor, so keeping things light and cheerful was important. We brought in lots of blues to create the bright and welcoming color palette.
We continued that blue moment into the guest bathroom with a blue vanity and patterned wallpaper. This is also the main bathroom that everyone uses when they're downstairs, so we wanted a space that was both adult and kid-friendly!
So, what's your favorite space so far in this San Francisco family home? Later this week, we'll be sharing all of the sources and details that make up these bedroom and bathroom spaces. For our "get the look" post from part one of our reveal, visit our last blog post to shop! Lastly, make sure you're following along on Instagram to see all of our favorite shots from this home. Thanks so much for following along – We can't wait to share the rest of this beloved project!