If you've been loving the moody traditional-meets-contemporary feel of our San Francisco interior design project, this one is for you! Today on the blog, we're diving into the sources and details that make up the bedrooms and bathrooms in this cozy San Francisco home. To see the full reveal where we shared the main bedroom and bathroom suite, the girls room and bathroom, and the guest suite, head to part two of our project reveal. If you're ready to get into (and start shopping!) the details, keep scrolling!
Main Bedroom
The main bedroom in the home receives so much natural light throughout the day. So, we wanted to contrast that with darker hues and lots of cozy layered textures. To recreate this look in your bedroom, opt for a dark wool rug, mixed wood tones for your bed frame and nightstands, and pops of pattern in black and white pillows and art prints.
Shop The Look

---
Main Bathroom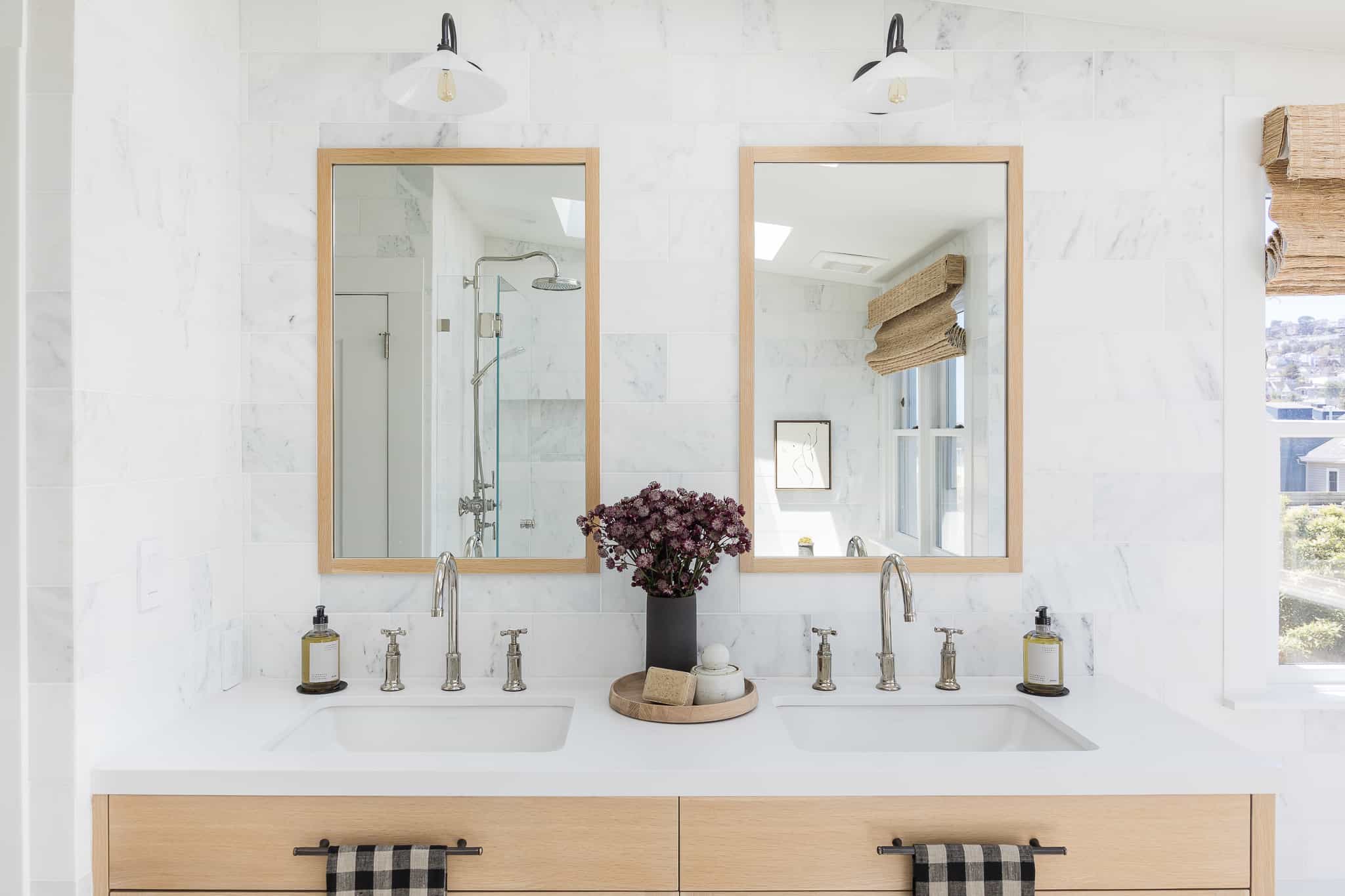 The main bathroom is one of our favorite spaces in the home, and has the most amazing views of the city! This space is young, fun, and sophisticated – We love it so much! For this look, try patterned tile floors, white oak wood tones, and delicate pops of black in details like the towels and hand soap.
Shop The Look

---
Girl's Bedroom
This girls bedroom space is just so sweet, and we love how much input she had in the final design! A patterned rug sets the tone, and spool-turned furniture adds so much charm. To achieve this look, don't be afraid of pops of color, and bring in lots of woven textures to add warmth and timelessness to the space!
Shop The Look

---
Girls' Bathroom
Last but not least, this cute bathroom space is truly every little girl's dream! A soft pink vanity complements the floral patterned wallpaper and scalloped brass mirror. To recreate this look in your space, invest in the details! Pearlescent hardware, antiqued brass hooks, and a tasseled shower curtain create so much visual interest and add lots of pretty to the space.
Shop The Look

---
Well, that wraps up part two of our latest San Francisco interior design project reveal! Next, we'll be sharing the downstairs spaces. They're home to the coziest family room, a swoon-worthy bar nook, and the back exterior patio that's perfect for family hangs. Stay tuned on the blog and on Instagram – You won't want to miss it! In the meantime, catch up on parts one and two of the reveal. You can also browse our previous projects for more home inspiration. Thanks for following along!