It's time for part two of our #mgdxthecottage home reveal, and we're so excited to share the rest of the home with you all! Over the course of this remodel, we had the chance to think about design decisions as they relate to our own personal preferences. It was a labor of love from start to finish, and the result is a traditional cottage-inspired home we're so happy to call home. Today, we'll be diving into the kitchen, breakfast nook, family room, and guest suite. If you missed part one, be sure to head there to catch up! Otherwise, keep scrolling to see all of the goodness in store in part two of The Cottage project reveal.
---
Kitchen
First up in part two of The Cottage project reveal is the kitchen. This space was easily the biggest challenge for us to design. We took the former laundry room and small kitchen footprint and repurposed both spaces to create one large, open kitchen floor plan. Like many full-scale remodels, the positioning of the existing kitchen in relation to the rest of the home had some unique design challenges due to the curvature of the home. It took a little time for us to figure out what felt most natural for the redesign, while balancing the addition of an island as well as working around a few structural beams. In the end, after lots of time and love poured into the space, it came to life as a charming nod to the English-inspired kitchen we'd hoped to have in our home.
Since this space is the hub of the home, we focused on a neutral color palette. We wanted it to feel unique and warm, with lots of charming character. The overall design is simplistic, which works well with the cottage architecture. We opted for a greige paint color for all of the cabinetry. Lee's Painting Co. did such a beautiful job painting all of the cabinetry throughout our home. We then found the most amazing statement marble slab from Bedrosians for the countertops with heavy veining and character. We balanced the statement of the marble with more simple cabinetry details, including custom floating shelves with decorative corbels and cottage-inspired millwork. I love adding a few pieces from Juniper Print Shop in the kitchen. They're perfectly cottage-esque.
It's no surprise we love beautiful hardware, as we typically opt for quality hardware in kitchens for all of our client projects. We sourced our kitchen hardware from Armac Martin and used their satin antique lacquered brass finish, which we chose because we loved how it contrasted with the cabinetry paint color. For appliances, we opted for classic stainless steel from Café Appliances. They fit the aesthetic style of the space beautifully, and they've been so functional for our family. The traditional-style bridge faucet from Kallista features a pretty accent of polished nickel in the space. We love seeing all of the details come together and the mix of various finishes throughout.
When we're designing kitchens for clients, the stools are always such an important element for us because they can really set the tone for the space and speak to each client's unique personal style. Our counter stools from Serena & Lily add personality to our neutral palette, and fit in so well with our aesthetic. I love the contrast of the black with the handwoven cane seat, and friends and family love how comfortable they are. After a couple of months getting to really use the space, the once quirks of the home have made the kitchen feel extra special for us and even more charming.
---
Breakfast Nook
Next up in The Cottage project reveal is the breakfast nook. Because the home didn't have a formal dining space prior and we enjoy a more casual setting, we found the perfect place to add a built-in nook and eating area. It's an everyday dining space that we truly use every single day, and is extra comfy to boot.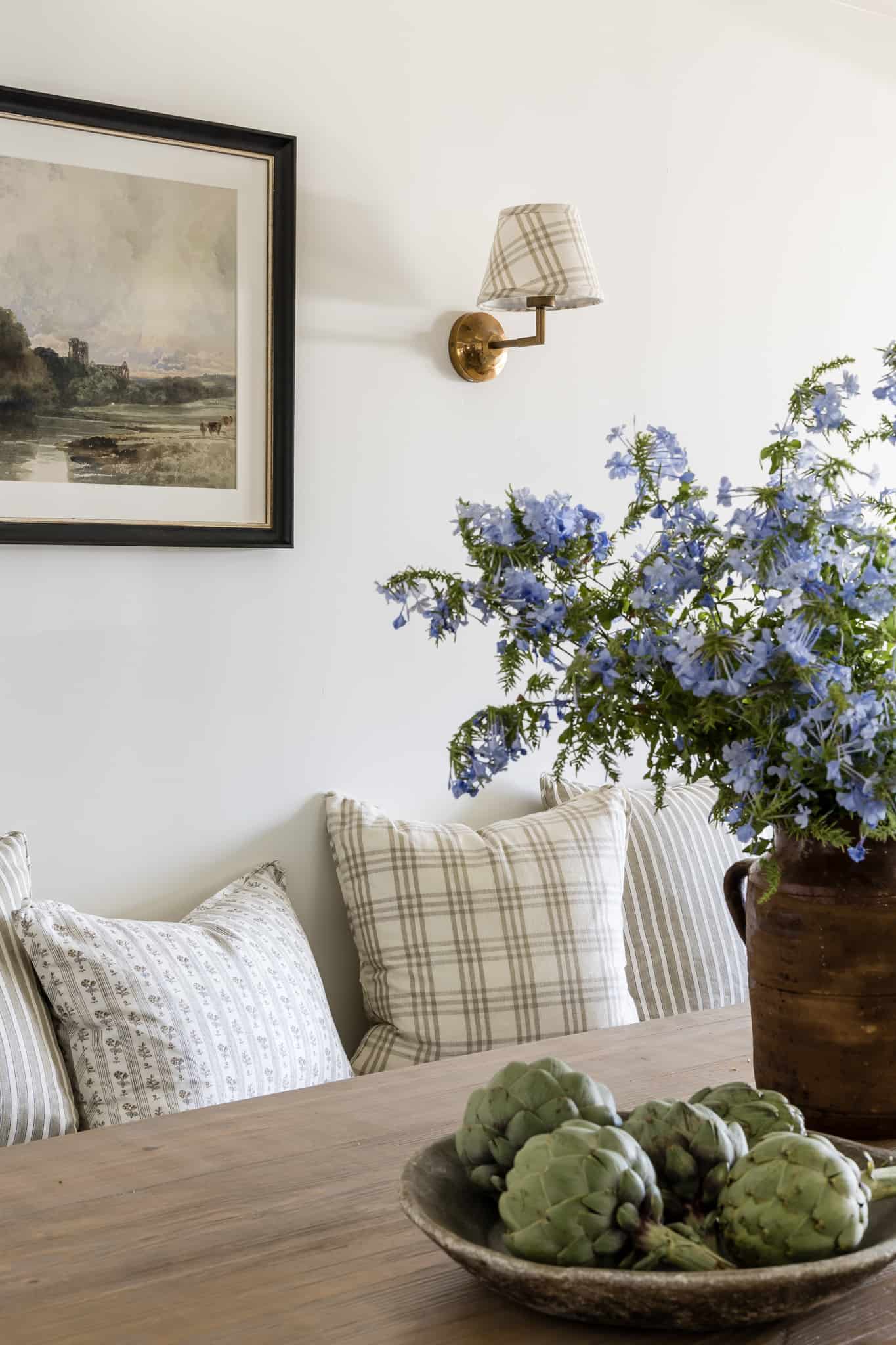 We're big fans of nook and banquette seating, as you've probably seen incorporated into many of our projects. In this space, we opted for a L-shaped seat with built-in storage below. We added French-style bench seat cushions in a striped performance fabric from Schumacher, which holds up so well up to daily use. As a continuation of the pattern play throughout the home, we added in various custom pillows in a few of our favorite patterns from Schumacher, as well as a pair of sconces with plaid linen shades to tie it all together.
Overall, the breakfast nook really feels like an extension of the kitchen. The English countryside landscape artwork from Juniper Print Shop perfectly completed this sweet spot. It's such a quaint, cozy corner and is quickly becoming our favorite spot in the house.
---
Family Room
Like most people, our family room is our main hangout spot. The first thing we sourced for this space was a beautiful vintage rug from Linda's Barn. We always try to include (at least!) one vintage rug in each of our projects, because of their beauty and character. We knew we wanted a vintage rug in here so we could enjoy it every day. They're so practical and hide just about everything. From there, we started layering in subsequent pieces and the design of this space came to life.
Because we were using a handful of lighter hues throughout the house, we wanted a little more contrast in this space. We opted for a custom slipcovered sectional in a dark performance fabric, and it's been the best for our young family. A simple white oak side table from Jenni Kayne Home is paired with a found coffee table and console. We love a good play of mixing old and new, as you'll see in almost every space in our home.
Our very own housewarming gift to ourselves was our first piece of original artwork, which we acquired midway through construction. We purchased a beautiful piece from Paul Meyer, who is one of our favorite artists. To soften the room, we added tailored pleat drapes in a luxe linen fabric from The Shade Store around our new French doors that lead out to the backyard. Whether it's dressing windows or French doors, we really love using linen drapery.
---
Guest Bedroom
The now guest bedroom was the former main bedroom for the previous homeowners. Since we reconfigured the floor plan and created our main suite at the front of the home, we wanted to create a space for friends and family to come stay. Thus, the guest bedroom was born! The original space was sunken down, so we brought it up to the same level as the rest of the home first.
From there, we wanted to keep a pretty, neutral palette in the space. A pinstriped upholstered bed is paired with metal nightstands and ceramic table lamps. We added woven wood Roman shades in a light neutral material from The Shade Store. It was important to us to include motorization so guests can easily open and close the shades as they please.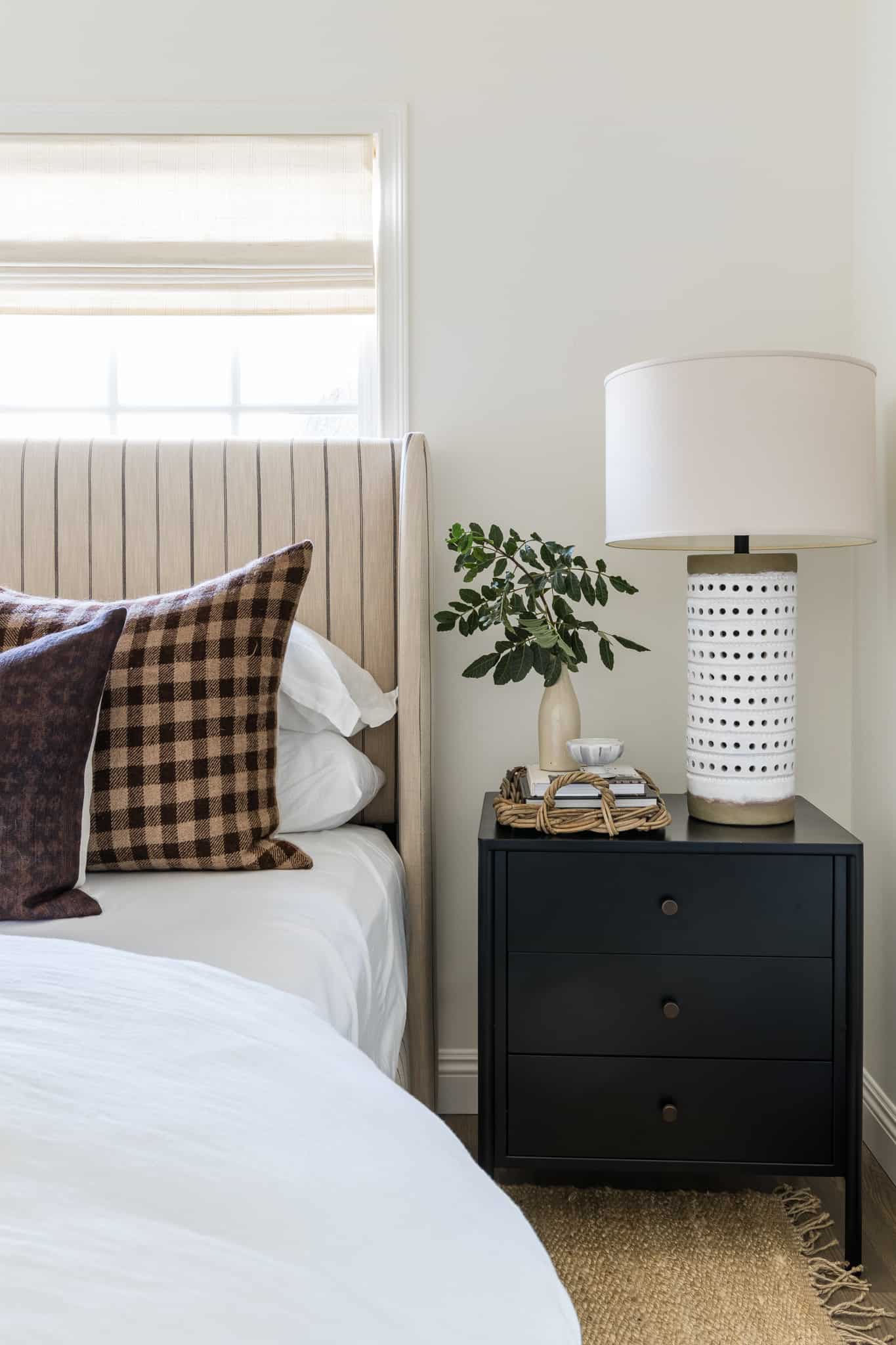 ---
Guest Bath
The last space in The Cottage project reveal is the guest bath. This cute little bath reminds us of a jewel box of sorts. It serves as a daily powder bath and guest bath when visitors are in town. The design started with the statement wallpaper and grew from there. It's a pattern we've always loved, and it epitomizes the cottage charm we were going for throughout the home.
From there, we layered in tile materials, all from Clé Tile. A durable floor was a must for us, so we installed a dark slate tile in a custom pattern on the floor. You may also know our love of Carrara marble, so naturally, we carried it in here for the shower walls and penny rounds in the shower pan, as well as for the slab countertop from Bedrosians.
Altogether, this bathroom is full of charm. Between the wallpaper, scalloped mirror, asymmetrical sconce that peeks off the side, and the decorative splash on the vanity, there's so much to love in this space. We opted for polished nickel in here, and love the mixed metals between the Kallista faucet and shower plumbing, paired with the burnished brass cabinetry hardware from Armac Martin. Lastly, you'll see more of the beautiful matte black Emtek door hardware we chose for the entire home.
---
With that, we've officially wrapped up The Cottage project reveal! Which space in the home has your heart? Let us know in the comments! We'll be sharing more details from each space over the coming weeks, so stay tuned. Thanks so much for following along and being a part of such a special project for us and our team!