We've got an extra special project reveal for you on the blog today, because we're finally sharing part one of #mgdxthecottage! If you've been following along for a while, you know that we bought our first home last summer and have spent the last several months undergoing a full-scale remodel. Like many of our client projects, this remodel took on a life of its own, and we're so in love with the quaint, cozy cottage we now call home. In today's post, we'll be sharing the living room, main bedroom and bathroom, and the cute nursery and nursery bath. There's a lot to share in The Cottage home reveal, so keep scrolling, and we hope you enjoy!
---
Living Room
Up first is our version of a formal living room. The original owners used this space as a dining room since the footprint of the home didn't include one. However, when we purchased the home, we knew that we wanted to have a separate living room, especially as our family was growing! This space is where we imagine spending holiday mornings and sitting with family and friends year-round. The floor plan of the home is more traditional, where rooms are separated and closed off. So, we wanted to lean into having a formal living room while still being inviting and family-friendly. Stylistically, it sets the tone for the rest of the home since it's the first space you see when you walk in the front door.
One of the first decisions we made was choosing a subtle wallpaper to add warmth. We landed on this perfect neutral pinstripe wallpaper from Schumacher, and we love the depth it adds to this space. From there, we added new crown molding and baseboards to add to the cottage feel of the space. We chose a contrasting paint color for all of the trim, baseboards, casing, and fireplace mantel to add a touch of extra charm. We worked with Lee's Painting Co. on all of the paint throughout the home, and we're so happy with how it all turned out! The fireplace is original to the home, because we've always loved the character of original fireplaces. We just redesigned the mantel millwork to feel more traditional in style, and now it's the perfect focal point for the space.
In terms of furniture, we wanted to mix old and new. We went with Jenni Kayne Home's feminine slipcovered Miramar sofa, and cozied it up with a few gorgeous pillows from Schumacher. We paired the sofa with a found coffee table and pair of vintage chairs we scored on a trip to Round Top, Texas. Behind the sofa, we added beautiful linen drapes to soften the space and allow for more privacy at the front of the home. These are tailored pleat drapes in a luxe linen fabric from The Shade Store. You'll see the same style in a few other rooms throughout the house as we continue The Cottage home reveal. It's a favorite of ours!
Above the vintage chairs, we created a gallery wall of pieces that have special meaning to us. We included artwork that reminds of places we've traveled as well pieces from our favorite artists, including a custom commissioned piece by a dear friend, Jacqueline Strejc. We love the sketch of Soho Farmhouse she made for us. It will always remind us of our trip to the Cotswolds a few years ago!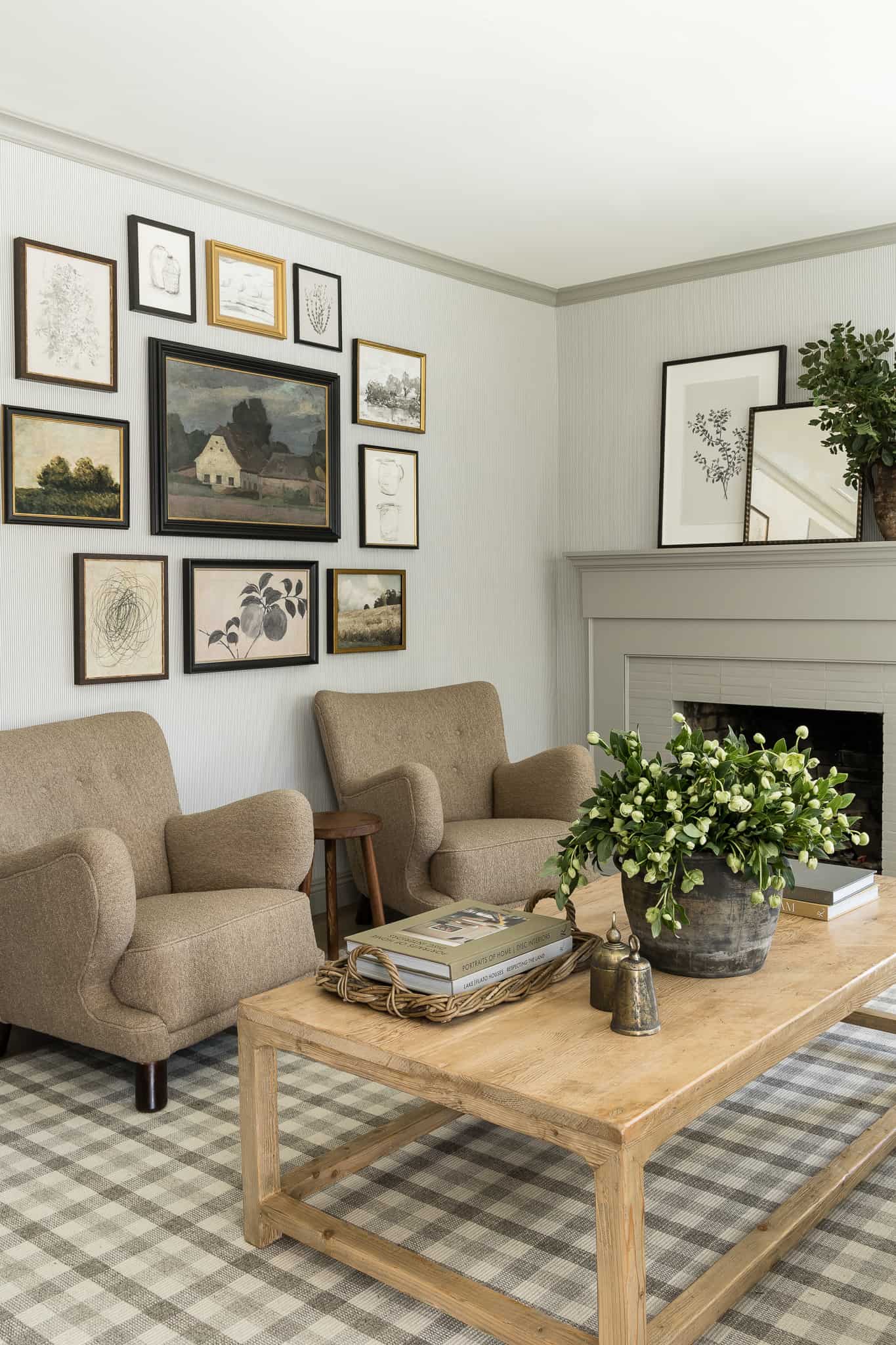 ---
Main Bedroom
Our main bedroom and bathroom were actually the last spaces we designed in the home. It was an opportunity for us to create a space that felt fun and playful for us. For that reason, we opted for a lively floral-inspired wallpaper from Rebecca Atwood to set the tone. The resulting design feels in line with the cottage charm and whimsy of the rest of the house. All of the door hardware throughout the home is from one of our go-to sources, Emtek, including the barn door hardware that leads into the adjoining bathroom.
We both love all shades of green, so you'll see that common thread throughout The Cottage home reveal. The statement piece in this room is an olive linen custom upholstered bed, which we paired with braided rope nightstands. In the corner of the room, we added another Jenni Kayne Home piece. This time, the Miramar chair in flax linen. Simplistic white linen bedding is a staple in our projects, so it only made sense to use it in our bedroom, too! Linen makes an appearance again in the understated tailored pleat drapes from The Shade Store.
Lastly, we knew we wanted a rug that had the pretty green tones we love in a subtle pattern to play off the more graphic wallpaper. The Paragon rug from Armadillo & Co. was a natural fit, and it's even more beautiful in person!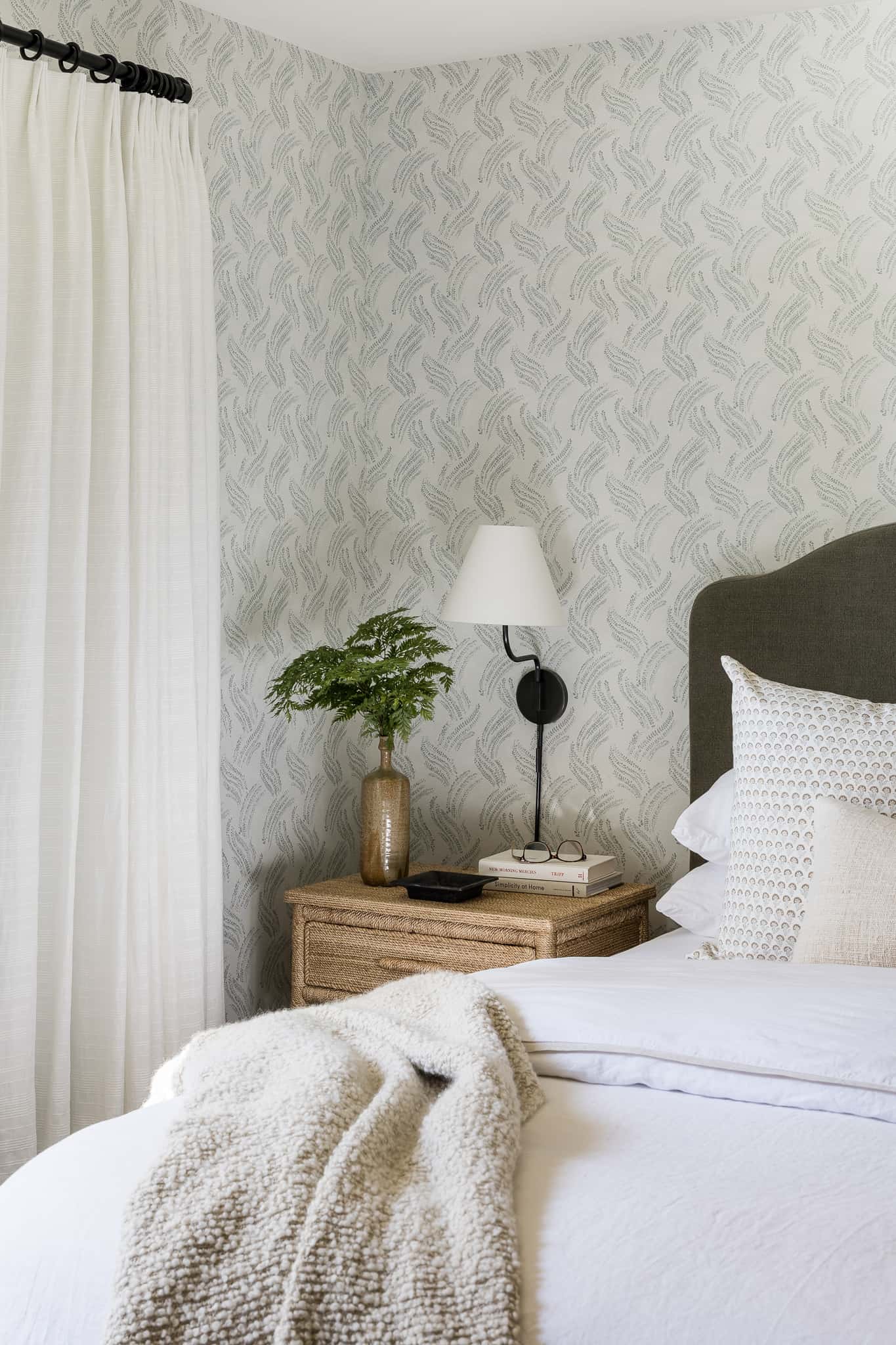 ---
Main Bath
Our main bathroom is an ode to our love of carrara marble. It's such a timeless material, and we use it in so many of our projects. It felt like a natural fit in our bathroom! We opted for a more feminine profile for the mosaic flooring from Walker Zanger as a tie back to the wallpaper pattern in the adjoining bedroom. Polished nickel is a personal favorite that feels timeless, too. We selected polished nickel plumbing fixtures from Kallista's One Collection in the prettiest transitional silhouettes. They're accented with burnished bronze cabinet hardware from Armac Martin, the sconce, and the vanity mirror.
This room was originally a secondary bedroom that had a quirky window layout. So, when we opted to redesign this room to be a bathroom, we were presented with a few unique design challenges. We opted to do a large vanity with one sink that allowed a pair of windows to let in natural light. Traditionally, we always opt for double vanities in our client projects, but in our own home, we went with a different set of priorities. Natural light and extra counter space was ultimately most important to us! At night, the tan woven wood Roman shades from The Shade Store can be closed for added privacy.
Special custom cabinetry will always have our hearts, and the vanity we designed for this space is a favorite of ours. We only wanted to use reeded details in one space. We felt we would enjoy it the most, so it found its home in our main bath. It's painted in the prettiest grey-green paint color, which works so well with the traditional carrara marble slabs from Bedrosians and the burnished brass cabinet hardware.
---
Nursery
When we bought the house, we had just found out we were pregnant. We didn't know the sex of the baby when I started designing the nursery, but we've always wanted a more neutral nursery. So, we went with a color palette that allowed for a mix of fun patterns in the prettiest neutral hues. The first element we chose in the space is the Oceana wallpaper from Serena & Lily. It's a favorite of ours because of the repeating pattern and perfect neutral color. From there, we started layering in pieces as we found things we loved.
An arched wood crib sits between two windows, dressed in woven wood shades and plaid pleated drapes from The Shade Store. We opted to have these shades motorized so we could easily close them for naptime and bedtime. We found a beautiful black raffia-wrapped dresser that we use as a changing table, and love the contrast it adds to the space. A mix of throw blankets and pillows, also from Serena & Lily, layer in a cute cozy feel. Finally, we wanted a subtle pop of color, so another Armadillo & Co. rug, the Leila, adds a greenish hue underfoot.
In terms of artwork, we wanted something that felt a little unexpected for a nursery. We collected different art pieces and a sweet sketch that we love that we think Ollie will love too. The mirror is another vintage find from Round Top. Overall, the nursery feels collected and full of little treasures like the rest of the house.
---
Nursery Bath
To wrap up part one of The Cottage home reveal, let's head into the nursery bath! In contrast to our bathroom, the nursery bath was one of the first spaces we designed when we bought the house. We were most excited about his little bathroom! First and foremost, we really wanted a statement floor that felt kid-friendly from an aesthetic standpoint. Checkerboard floors have always been special to us, so this is our take on a checkerboard tile floor. We opted for two-tone zellige tile from Zia Tile in casablanca white and glazed earth for the floors. Then, we carried the casablanca white tile up the shower walls in a diagonal pattern.
The checkerboard floors are a fun play on pattern juxtaposed with the floral wallpaper from Jane Churchill. We opted again for polished nickel plumbing fixtures from Kallista in here, this time in more traditional silhouettes. Last but not least, we went with one of our favorite green paint colors for his vanity, accented with unlacquered brass hardware from Armac Martin. The countertop is a beautiful statement marble with heavy veining from Bedrosians. You'll see this marble again in the kitchen later on!
---
That just about does it for part one of The Cottage home reveal! This has been a truly special project for us and our team, and we hope you've enjoyed following along throughout the remodel process. Coming up soon, we'll share part two and dive into the kitchen, family room, and more. In the meantime, make sure you're following along on Instagram to see the new projects we're working on. Lastly, to browse more of our work, head to our portfolio and check out all of our client projects over the years! Thanks for following along. 🙂