And just like that, it's fall and we're here with another Good Design Guide. This time it's the Cotswolds travel guide edition… the quaintest little region located in the English Countryside. Truth be told, there isn't a thing I didn't love about this trip. The Cotswolds is the cutest idyllic cluster of widespread counties and villages. It's such a beloved part of England, and rightfully so. After spending a week in London (popping into all the cute shoppes, eating so many good eats, bike riding, park and museum hopping – you name it), we ventured by train to the Cotswolds. It was truly the best change of pace from the hustle and bustle of the city. It was my favorite way to end our trip to England. We were welcomed with cozy (rainy) weather, iconic limestone cottages, charm for days, and perfectly imperfect gardens.
We know SO many of you have this lovely locale on your bucket list too. After many requests, we figured it was time to let you in on our new favorite (and romantic!) getaway spot. And as always, consider this the "Good Design" edition of the Cotswolds, where everything is cute and worthy of a quick little iPhone snap… because, well, it really is just this lovely here! So, read on, and we hope you enjoy our Cotswolds travel guide!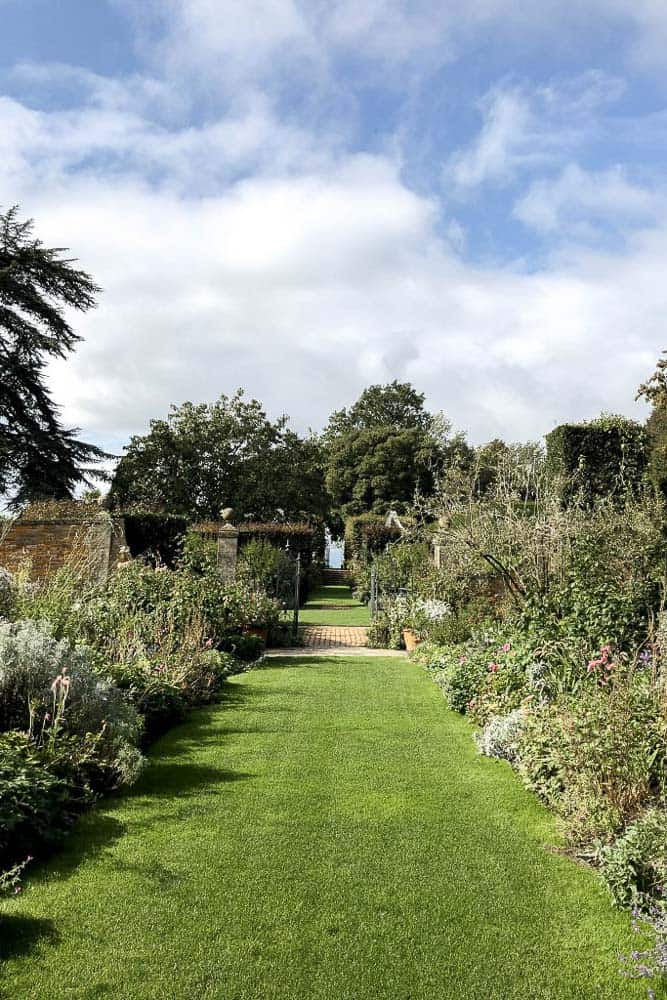 Towns to Visit
---
First things first, the lay of the land. Here's a quick overview of our trip – where we traveled, where we stayed, where we shopped, and where we ate. From London's Paddington Station, we took a quick 1-hour train ride to Charlbury. After much debate about renting a car or hiring a local guide, we found the best private tour guide. I can't recommend Ian enough! We had him pick us up from the train station upon our arrival into town. It made the logistics of getting from the city to the countryside so much easier. In addition, we were able to spend the entire day with him exploring. He's also wonderful because he let me send him a very detailed list of the places I wanted to see. Then, he filled in the rest of our day with lots of charming little villages. It was the perfect day.
There's so much to see (and much more that isn't included here!). We've compiled a list of all the best towns to visit in this neck of the woods. The Cotswolds is surprisingly large and spread out, so you can easily spend a few days exploring by car if you end up wanting to see the whole countryside. We loved driving and strolling through all these historical spots below, taking in the beauty of the English Countryside. It's a little dream land and so picturesque.
01 / Daylesford Farm

02 / Chipping Norton

03 / Chipping Campden

04 / Snowshill

05 / Broadway

06 / Stow-on-the-Wold

07/ Lower Slaughter

08 / Bourton-on-the-Hill

09 / Bourton-on-the-Water

10 / Great Tew
Where to Eat
---
Daylesford Farm
Daylesford Farm is a great lunch stop for yummy organic eats and some serious eye candy. Head here first! If you love a good shoppe and cafe like we do, budget at least an hour or two. I could've posted up here all day long, so I couldn't leave it out of this Cotswolds travel guide. Everything is grown locally, pastries are made in-house daily, take away salads and eats are aplenty, and the organic produce is grown right on the farm! And that's just a tiny portion of the Daylesford experience. After you pass through the cafe and market side, wander through the rest of picture-perfect property and shopp. Maybe plan on bringing an extra carry-on so you can stow all of the souvenirs you'll want to bring back! We scoured a few of their totes, candles, preserves and honey, and a few other keepsakes.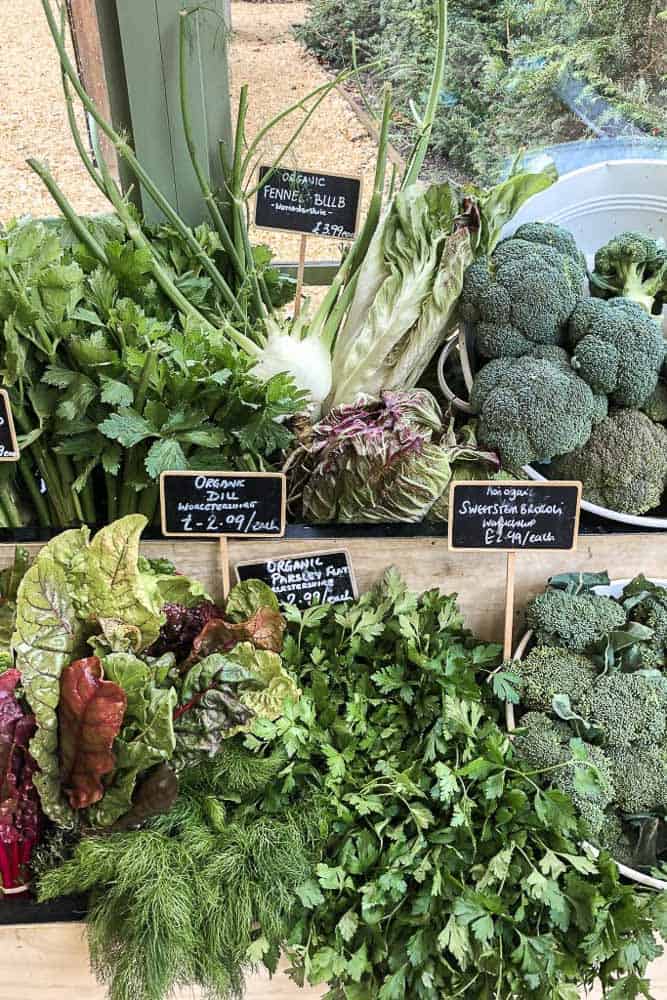 The Wild Rabbit
The Wild Rabbit is the perfect stop for seasonally and locally sourced pub classics. Think modern fine dining, with a rustic chic vibe. They're open for lunch and dinner, and locals flock here. It's just a few minutes from Daylesford Farm. Therefore, it makes for a pretty perfect day if you have time to visit both.
Hidcote Manor Gardens
This is another casual afternoon spot, nestled in the most picturesque location. If you want a change of scenery from driving from village to village, the Hidcote Manor Gardens are a fun spot to stop. Grab a quick sandwich or tea, and take a stroll through the paths of the limestone manor and overgrown gardens. There's a small entrance fee. Beautiful on a sunny day.
Chipping Campden
Chipping Campden is the perfect spot to get a real feel for a classic Cotswolds village. Stroll along the main street, pop into Eight Bells for a pub lunch or dinner, and walk the nearby shops and gardens.
Snowshill
The cutest little spot. It doesn't boast much, but it's quaint and picturesque. It also has a pub in the center of the village if you need a pick-me-up. I took so many pics here because it was everything I imagined whenever I'd think of a classic Cotswolds village. We also learned that they call every little town a village. Don't call it a town. It's a village. That's why I love the locals – they kindly set you straight! And a fun little fact, a scene from Bridget Jones' Diary was also filmed here in Snowshill!
Where to Stay
---
The great debate for me whenever I travel, is where to stay. It's equally as important to me as just about every other element of a trip. The Cotswolds has some of my all-time favorite places to rest your head – all with incredible design to boot. If we'd stayed here long enough, I would've literally Inn-hopped so I could've experienced them ALL! I'm that crazy.
We had to narrow it down, and I've included my favorites in this Cotswolds travel guide. Below are my favorite spots to bunk up. You'll also get a peek at where we were lucky enough to stay for a few nights, at Soho Farmhouse.
01 / Soho Farmhouse (Members Only)

02 / The Wild Rabbit

03 / Daylesford Farm Cottages

04 / Thyme Cotswolds
Soho Farmhouse
Soho Farmhouse… It's been on my bucket list for years now, and it was so incredibly special, I didn't want to leave. Every detail and element of the property is thoughtful, fabulously understated, and blissfully perfected. They just get it. Or rather, I get them. I know I'm gushing; it's just one of those places that feels like home instantly. It's so far removed from anything familiar. However, they manage to foster the best of the best to make you want to return as often as possible. It's just that cool.
These others below are on my list for our next trip, because, yes, we're already planning to come back!
The Wild Rabbit
The Wild Rabbit has a cluster of rooms opposite their restaurant, and you can pick which room you have your heart set on. If I were an Inn, this would be me, to a T.
Daylesford
Daylesford also has a series of beautiful cottages you can call home. They book up rather quickly; but, if you're planning far enough in advance, I think they're the perfect spot to stay with families.
Thyme
Thyme is a little further away, but it's truly special. If you need a virtual getaway, browse their site and I promise you'll be wanting to plan a trip!
That's all for now! I hope you've enjoyed our Cotswolds travel guide around the English countryside. If you're ever in London and are itching to explore a bit more of England, I can't say enough about how much I love this country and countryside.
I studied abroad at Cambridge University back in college, and that's when I first fell in love with the country. A few other favorite spots to visit, if you're considering seeing more of Great Britain, are below…
01 / Bath

02 / Stratford-Upon-Avon

03 / Cambridge

04 / Oxford

05 / Heckfield Place

06 / All of Scotland
I often think this part of Europe is a bit overlooked when people are planning trips. However, it's truly one of my favorites. You won't regret it, and you'll leave with hearts full. It's the perfect reprieve from the hustle and bustle of normal European travel. In addition, it also makes for the perfect romantic getaway!
Looking for more "Good Design" travel content? Visit the lifestyle section of the mgd log! Make sure you're following along with us on Instagram to travel along with us next time!