It's time for part three of our La Jolla family home project reveal! To catch up on parts one and two, head to the projects section of our blog! Today's post is arguably the most fun of them all… We're diving into the kids spaces in this contemporary family home! The bedroom suites and playroom are full of fun pops of color, coastal touches, and lots of family-friendly details. We're also sharing the enviable laundry room space… Did someone say two sets of washers and dryers?! All in all, if you're in search of home inspiration with small kids at home, you're going to love all that's in store today!
Boys' Hall
With 3 young boys at home, it was important to our clients for them to have spaces dedicated to them as they grow up! In the boys' hallway downstairs, we brought the ceilings down to add a closet in the main bedroom above. We also added hardwood floors instead of limestone in the bedroom wings to differentiate them from the main living spaces of the home. Our favorite part of this hallway design has to be the V-groove plank doors in that perfect charcoal paint color!
Boys' Suite 1
All three boys love blue and grey colors, so it was a fun design challenge for us to create three distinct boys bedroom designs that could grow with them as they get older! The design for the first boys' bedroom suite is a nod to classic California style with beach-inspired art, abstract line wallpaper, and a cozy upholstered headboard in a charcoal linen. You may recognize the poufs and wool rug from our Spanish Canyon project. We loved being able to reuse them in a fresh way in this space! All of the boys also love to read, so we wanted to find nightstands that had room for a basket underneath for all of their favorite books.
In the bathroom, we carried in the same limestone floors from the living spaces, and accented the neutral space with a blue vanity paint color. White shower tile and flat black hardware and plumbing complete the look!
Boys' Suite 2
For the oldest boys' room, we took a risk with a navy patterned wallpaper on the back wall! Our clients were the most unsure about this selection, but now they love it after seeing it all come together in the space. It's just proof that bolder design decisions (almost) always pay off! In this room, we opted for a darker palette with navy, black, and charcoal tones. The bed frame was custom designed for the space, and the nightstands are a cool mix of wood and perforated metal. He also picked his own artwork above his dresser! We found four options for him to choose from, and he loves the beach so much that he immediately picked the surfboard fin artwork. It adds such a playful and personal touch to the room!
To keep things cohesive, we went with the same floors, tile, and fixtures as the first boys' bathroom design. We just opted for a more grey-blue vanity paint color to mix things up!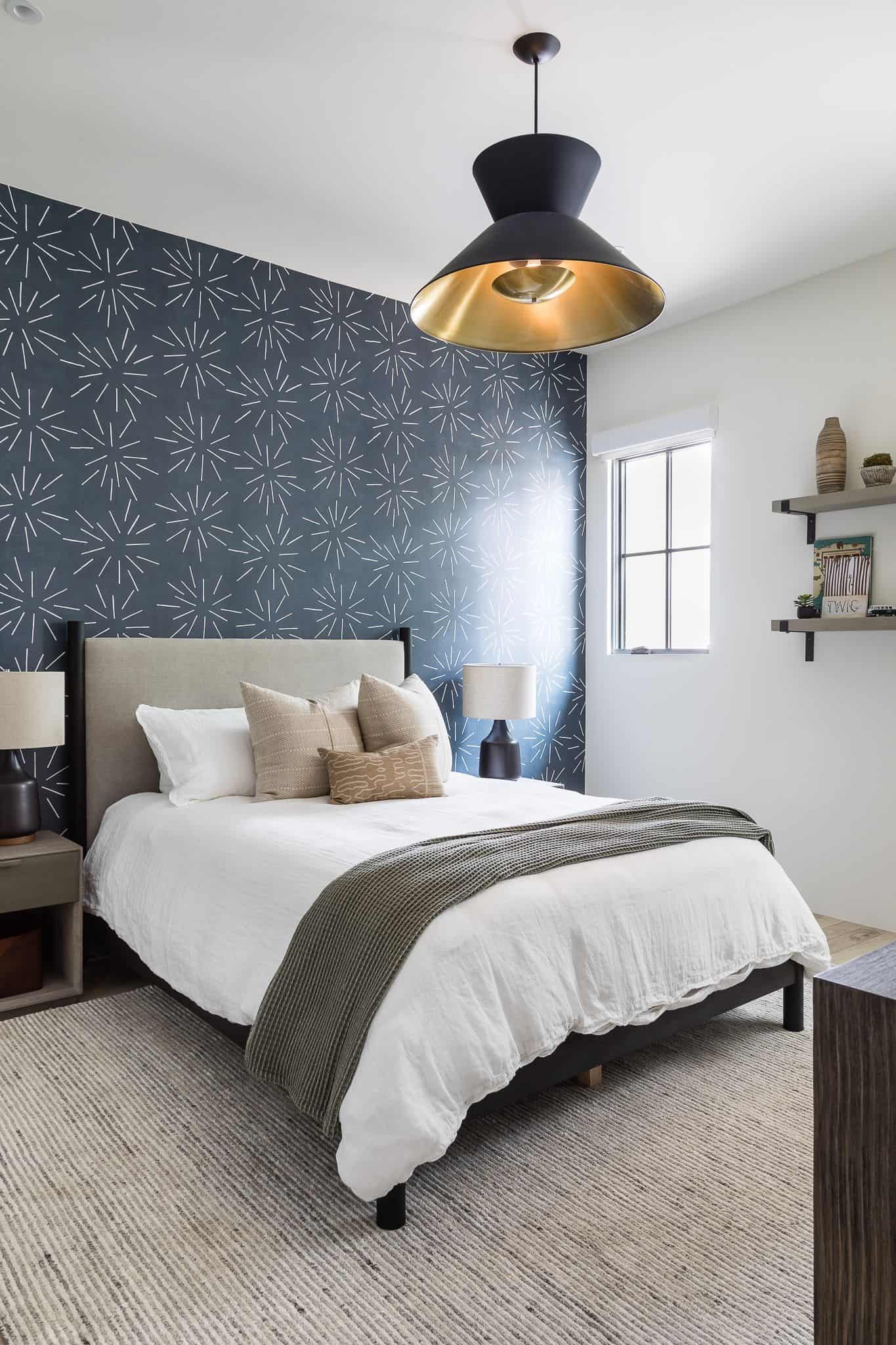 Nursery Suite
In the nursery space, we found this fun Rebecca Atwood palm print wallpaper. Our client loves Rebecca Atwood prints as much as we do, so you'll see more of them in the playroom design down below! This room has the least amount of natural light of the three boys' rooms. So, this was the perfect space to go with a lighter blue color. The nursery also feels the most California-beachy with nautical touches. All of the artwork as well as the crib and rug are repurposed from their previous home! In his attached bath, we opted for a brighter blue paint color to tie in the wallpaper, and switched out the fixtures for a brushed nickel finish to keep things feeling light and bright.
Playroom
Now, let's head into the fun playroom of this La Jolla family home! This space faces the backyard, and has the prettiest natural light. The great room is where our clients anticipated spending time with friends, but the playroom is where they come to spend time as a family. This room is the most similar to their Spanish Canyon house. They wanted one of their rooms to remind them of what they loved so much about that home.
The sectional, chairs, rug, and coffee table are repurposed from their previous family room, and the light fixture is from the Spanish Canyon entryway. We added fresh new patterns in the form of Rebecca Atwood pillows and wallpaper. The collage wall is full of prints and pieces from each of the boys room in their last home. It was so fun for us to pull from all of those to create this fun tribute moment! They have a huge closet in here with all of their toys, and you can find them here any time of day playing with Legos, making art, and doing puzzles. It's truly the perfect family den!
Laundry Room
The laundry room design is centered around consistency in design choices from the kitchen, dirty kitchen, and powder bath spaces. Although it's situated in the kids wing, it ties in the rest of the home and has a more elevated feel. It has the same limestone floors, white oak cabinetry, and quartz countertops. This space is truly a performance laundry room – You can get a lot done in here!
The attached bathroom also doubles as a powder bathroom off the playroom. We tried to keep the design intent similar by using the same palette for all of the materials. However, in this bathroom, we opted for a freestanding zinc vanity with a vessel sink for an added cool factor.
How fun was that?! There's only one reveal left in our La Jolla family home project launch. You won't want to miss part four! Stay tuned for a "get the look" post from these rooms later this week. Lastly, make sure you're following along on Instagram to see more from each space! We hope you've been enjoying this project reveal as much as we have – See you back here next time!