This one's for the boys! The boys' bedrooms, that is. Today on the blog, we're sharing all of the cute sources and links from the 3 kids bedrooms in our La Jolla project. We're also going into all of the details from the colorful playroom space! From the perfect wallpapers to the best kids furniture, you'll find everything you need to recreate these blue boys bedroom designs in your own home. In true California surf-inspired style, let's dive right in!
Boys Room 1
The first boys bedroom is the definition of cool California coastal style. For this look, a broken stripe pattern wallpaper, charcoal upholstered bed frame, and classic wood nightstands form the foundation of the space. From there, fun throw pillows, wave-inspired artwork, and a few touches of texture in the form of a throw blanket and leather poufs complete the look!
Shop The Look

---
Boys Room 2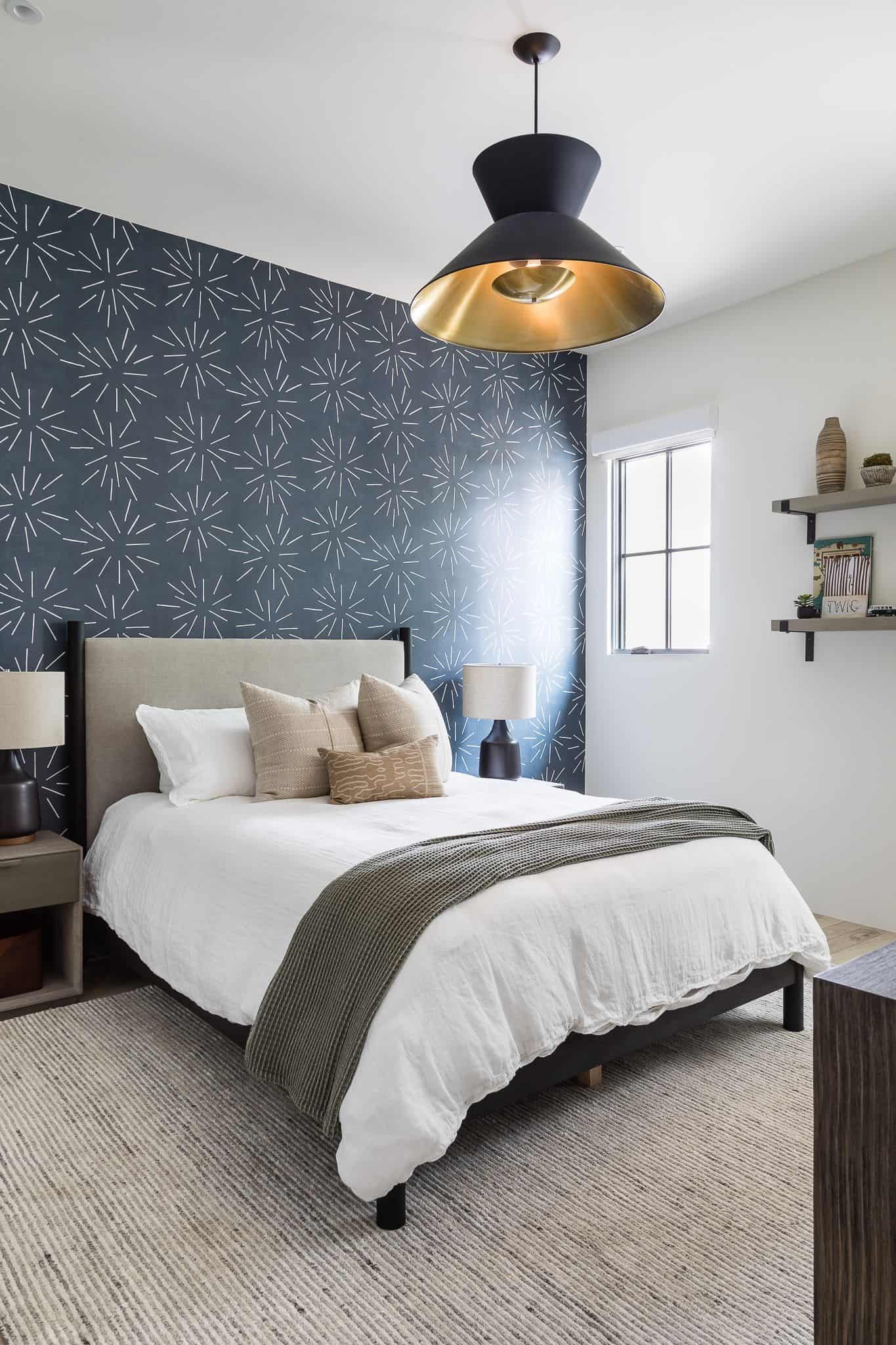 Next, the oldest boy's bedroom features an accent wall with a navy blue firework-inspired wallpaper. Darker charcoal and grey wash wood furniture pieces keep it feeling masculine and timeless. A statement pendant light, floating shelves for his favorite collectibles and books, and neutral throw pillows tie it all together!
Shop The Look

---
Nursery
Now, onto the sweetest nautical nursery! A lighter blue wallpaper, beachy gallery wall, and classic white crib make this a space we wouldn't mind spending the day (and night) in with a little one. To recreate this look, a simple blue rug, nautical rope chandelier, and a linen swivel chair are all you need to complete the space!
Shop The Look

---
Playroom
We can just imagine the game nights and movie nights in this colorful playroom space! A white textural chandelier sets the tone, while a turquoise sectional, leather poufs, and lots of throw pillows provide ample seating. Then, a coffee table for board games and popcorn and a gallery wall with lots of cheeky kids art prints make the space extra-fun and functional!
Shop The Look

---
Which of the three boys bedroom designs is your favorite? We truly can't choose – They're all so good! Next week, we'll be sharing the moody main bedroom and bathroom retreat and the coolest backyard living space. Stay tuned – You won't want to miss it! In the meantime, head to the projects section of our blog to catch up on all of the La Jolla content so far. We're also sharing behind-the-scenes content from this project and more from each space on Instagram. So, make sure you're following along there too! Same time next week? See you then!